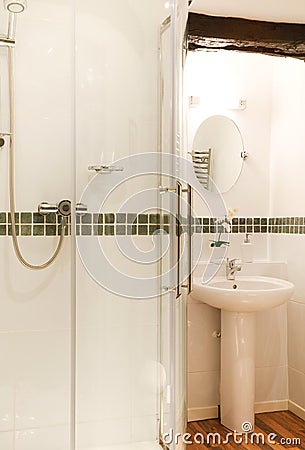 WHAT'S IN YOUR SHOWER???
Every day without fail as I jump into the shower, the first thing I think of is the last thing I'll do before I jump out. Going through the motions, all I can think about is how long it's going to take me to clean the darn thing when I'm done.
It all started when I began watching HGTV's "Love It or List It." They do such great makeovers and most, if not all of the master bedrooms have these gi-normous en suites with glass shower doors that are beautiful!  I don't know about the rest of you, but I love a clean shower.
There are different degrees of clean. To some, a clean shower is a "tidy shower".  It's when you go to visit a friend or a relative and when you open the door or draw back the curtain, all the shampoos and conditioners are lined up, but there's a wet used wash cloth thrown in the corner with a squeaky toy and a communal bar of soap. Most likely there's no clean towel hanging there just for you, but there's a linen closet close by so you stick your head in and find something, mismatched as it is, and it becomes yours. It's one of those showers that when you hop out, you feel like you need to hop back in. Sorry, I've probably just described half of the world.  Stay with me, there's a point to all this …
I'm not perfect and I'm certainly not one who can throw any stones. My family would be the first to tell you that if "cleanliness were next to godliness", it would be in my best interest to "work out my own salvation" as they say.
After spending 10 years in the same bathroom, when the kids moved out, I had the opportunity to leave our master bedroom en suite and move into the main bathroom.  Before you think I've lost my mind moving out of my en suite, it's no en suite, it's more the size of an outhouse … I just like saying en suite 😉
In my typical quirky style, I try to turn every life experience into a "teaching moment" but each time I grab the spray bottle and sponge I always feel defeated.
Life can be that way; this morning I had so much on my mind that by 5:55am I had already had a bad day! I needed a little attitude adjustment and then me Jesus headed out the door to begin our day together.
Some days I feel so rushed and move so fast that there's no real time to catch up or make good decisions.  I can honestly tell you that when I've had a long day and my husband starts talking to me about something important and wants my opinion; I can't help him. I'm done, I'm clogged up and dirty.
That's how I feel about my shower when I won't or can't take the time to clean it because I haven't properly organized my day. Then when I get home and want to take a hot bath I've got shampoo bottles falling on my head, my razor, my loofah, my leave-in conditioner, etc., etc., it totally ruins the whole experience.
Had I just done what I needed to do, I would have experienced a nice, hot bath, cleared my head and gotten a sound night's sleep. Wouldn't it have been so much better just to do the work?  It's a fair question.
Doesn't it smell nice when the shower's clean?  When you disinfect, spray, wipe up, or whatever, it just always leaves a nice scent, kind of like that "new car smell."
Here comes the metaphor …
Those shower stalls are us walking around.  If someone were to open you up, what do you have on the inside? When we've taken the time to clean out the old so the new can shine through, it's a place you want to be around.  But what about soap scum, clogged drains and random wet wash clothes laying off in the corner? If someone were to open that up, they could slip and fall leaving behind collateral damage. I don't know about you, but I don't want to be part of or anywhere near a collision.
We have to "look at our insides" and see what's there. What about a new beautifully shaped, aromatic bar of soap wrapped up all pretty and on display simply for you.  What's the first thing you do?  You stare at the beautiful display, pick up the soap and smell it, as the intoxicating aroma enters your senses. You can't wait to use it!
Don't you want to be one of those people others are drawn to?  You're spirit and your countenance can do that.  Or, your downtrodden demeanor and broken spirit can send people running in the opposite direction.  Think about a lonely little bar of soap that's been used up and cracked in half.  You know it's been used and abused by each and every family member that goes through that bathroom.  The sad part is, there's no fresh bar of soap in sight, so this poor little soap that's now in about 6-one inch pieces has now got to clean and cover your entire body.  The poor little thing has nothing left to give.
My point here is that I like order, predictability and things I can count on.  The bible speaks of order and balance.  When I come home after a long day and I want to jump into a nice hot tub with my favorite bubble bath, I know I can because I made the choice to do the right thing and now I'm able to reap the benefit.
Don't be lazy, clean your shower…literally and metaphorically.  You'll be much happier; and so will those around you.